June 4th, 2014
http://www.ksl.com/?sid=30163123&nid=1010
HURRICANE — When Southern Utah resident Cory Reese heads out for a run, he isn't training for a 5k, 10k or even a marathon. Reese, known to many as "Fast Cory," runs 100-mile races and is about to embark on his 10th 100-miler. This time, however, he will be doing it solo and unsupported.
A husband, father of three and social worker, Reese has a unique reason for running: for the pure enjoyment of it. And although extremely ambitious, Reese didn't start out by running 100-mile races.
"For a long time I thought a marathon was the peak of human endurance. Then I came across guys like Davy Crockett and Ed Ettinghousen who were doing crazy distance running (and making it look easy). It really opened my eyes to the fact that we really are capable of so much more than we know," Reese said.
Completing his first 100-mile race in 2011, Reese was hooked, going on to complete eight more races, four of them in 2014 alone.
"I've treated the last year or so kind of like an experiment in pushing myself to see how much I am capable of," Reese said. "I've tried to push the limits and really challenge myself."
Realizing that he's run a 100-miler in February, March, April and May, Reese thought he'd continue the streak one more month.
"I figured out that I've run nine 100-milers, and I wanted No. 10 to be something different, challenging and interesting," he said. "Then I had an idea. How about running through the heart of Utah? Start at the state capitol building, run to Provo 50 miles away, and then turn around and run back."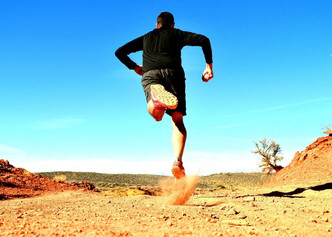 "I figured out that I've run nine 100-milers, and I wanted No. 10 to be something different, challenging and interesting. Then I had an idea. How about running through the heart of Utah? Start at the state capitol building, run to Provo 50 miles away, and then turn around and run back!" -Cory Reese
Planning to start the morning of June 4 and carrying all his own gear and fuel, Reese will rely solely on himself and a steady stream of gas stations along the way to refill his water and buy food. "I've always been a fan of densely packed calories, with a particular fondness for Hostess products," Reese admitted. "So just for fun, and just because they'll be available, I'll plan to eat a steady stream of Hostess along the way to get the calories needed to run that far."
And with that, the ultra-runner deemed his upcoming run, the "Hostess 100."
In a note to readers of his blog, Reese wrote, "I think it's important in life to take risks. Challenge yourself. Do something that scares you. Go big or go home. Try something that will either be an epic adventure or a miserable failure. That's what this run is to me. I'm excited to see how things turn out."
To follow Cory's progress and other adventures, go to fastcory.com